1996
demotape "...nekdo jinej..." (anybody else) 14 songs about 40 minutes
1998


tape CBHC Strahov 007 live - pbjp, dezinfekce, better way
- a release from the show in Prague's 007 club





1999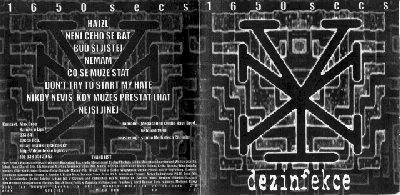 demo tape and CD"1650 secs" 8 songs:
hajzl
není čeho se bát
buď si jistej
nemám
co se může stát
don't try to start my hate
nikdy nevíš, kdy můžeš přestat lhát
nejsi jinej
some mp3's and ra's should be here tape is avaible on Papagajuv hlasatel records and in distros or write for it to band directly

2001
- some live stuff on the tape compilation Hlasy z podzemí IV. (Voices from the underground). This tape is out thanx to Aktivita Cabaret Voltaire - ACV
- one song appears on the CD compilation of Polish Arle-zin.
- "co se může stát" and "don't try to start my hate" on the tape compilation "Kirk to Scotty tapes #02- Need for Speed"

2002
split EP dezinfekce/ svině! Pohoda records click on the thumbnail to see full image (322 kB)

dezinfekce side:
1/ I don't need
2/ stejnej jako oni
3/ ted mas co jsi chtel
4/ bud si jistej (noize punishment rmx)
svine! side
1/ 1984
2/ matka země
3/ smejdi
4/ her-man
svine! booklet side in adobe acrobat only *.pdf (306 kB)

compilation AMA tapes (tur)
CD/LP "stačí najít důvod" u Pohoda records
stačí najít důvod
tak to vzdej
proti sobě máme šanci
co bys dělal na mým místě
buď ty nebo já
každej den každej z nás
faceless
....!
jen ty sám
nemít strach
(this is not a) love song
30:05
Reviews
Impregnate noise laboratories
Old school, raw and faster hardcore/punk attack from Czech. The best record I have heard from them. If you are a punk-rocker, you must have it!!!!!!
Staff for February - March '05 Issue
http://www.impactpress.com/articles/febmar05/musicr2305.html
I don't know very much about this band, but I do know they are from the Czech Republic and play aggressive punk rock music. This band sounds a lot like Total Chaos and The Exploited only the Czech version of the two. If you're a fan of old school punk, you should check them out, but be warned that they don't sing in English. This shouldn't deter true fans; they are a really solid band. (RP)
http://www.punkinternational.com
I've been waiting for almost two years now for a new album from the great Slovak hardcore band Ilegality, since their great "Kto je Kto" album that shared a disc with the Czech band Svine and their album "Tak Se Neboj". The hardcore of the former Czechoslovakia that I've been fortunate enough to hear puts a pretty unique spin on the all-American staple, and it's turning out to be more widespread than I expected, as another Czech band on Pohoda Records, Dezinfekce, joins the fray.
The name, I can guess with great certainty, can only mean "Disinfection" or "Disinfected". The game is hardcore, but with Czech lyrics and a homegrown approach to the genre, it'll sound refreshingly different to most ears. These songs aren't nearly as vicious as most hardcore tends to be, but there's still something very urgent and imposing about this music. It's firmly anchored by the roots of both punk rock and hardcore, played frantically with very prominent bass lines. A sense of high speed is produced without the assistance of a double-bass drum, or any fast percussion work whatsoever. The guitars, similarly, are played without much emphasis on distortion or rapid speeds. It's different from the hardcore I'm used to, but might be more familar to someone with more background in hardcore. No matter where you come from it's worth having a look at. Rating: 70%
by Kejmy (English summary edited by Spud)
The rocking debut cd from Dezinfekce was released on Pohoda Records in November. Dezinfekce, a three piece band from České Budějovice has been playing together for almost ten years. Maxeek (bass, vocals), Pufffy (guitar, vocals) and Fla.ska (drums) recorded two DIY released demo records and one split with Svině (the band of Pohoda Records' owner). The current album was recorded by Ondřej Ježek in his home studio (Studio Jámor) and the quality is audible - as is the intelligent aggression Dezinfekce brings to their music. The music is a mixture of punk angst and speed with a hardcore ethics-aware attitude that will please anyone who sometimes tends to feel like destroying something.
Intense hardcore from the Czech Republic! Early D.C. meets Negative Approach influence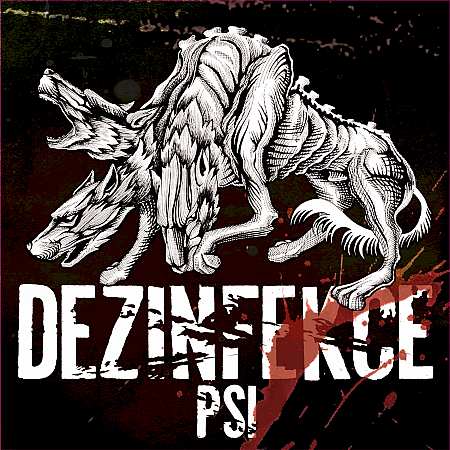 http://thepunksite.com/reviews.php?page=album/number_d/dezinfekce_psi

Czech hardcore that owes much more to the eighties than it does nineties-style thrash revival or today's current crop of bands – there's just something about this record that sounds very pure and honest, like maybe they're familiar with today's hardcore scene but honestly couldn't give a shit. Dezinfekce strikes me as a band that holds their pre-1988 LP collections pretty close to their hearts.

While the English translations are a little rough around the edges, the lyrical intent is pretty clear – Dezinfekce are less than pleased with, well, quite a few people. In that regard, they're very much following suit with the 80s as well – there's a lot of calling out against scenesters, shit-talkers, assholes and backstabbers. It's a pretty tired lexicon, I'll admit, but again, there's something kind of heartwarming about it too: it's nice to know that half a world away there's a bunch of pissed-off punks that're still willing to point fingers and, I don't know, do the windmill and stuff.

While they never come close to transcending the genre – and I doubt that's the point anyway – they manage a few bright sparks here and there. There's that rumbling bassline intro in Svuj K Svymu, the old chugga chugga guitars and back-and-forth vocals in Ksicht, and the very brief appearance of wah-wah guitars in Komu Podas Ruku? show that the band's not always going for the straight pummel, though that's usually the case.

Really nice layout on the record, with 13 songs (two of which appear to be demo tracks) clocking in at under thirty minutes. It's raw hardcore stuff that totally eschews melody and harkens back to a day when the genre had yet to be colored by terms like "screamo" or "emotive hardcore." Ugly stuff through and through.

CD: PSI, Artist: Dezinfekce, Label: Papagajuv Hlasatel Records., Rating: 3/5, Best Song: Ksicht, Reviewer: Keith Rosson