01/06/2010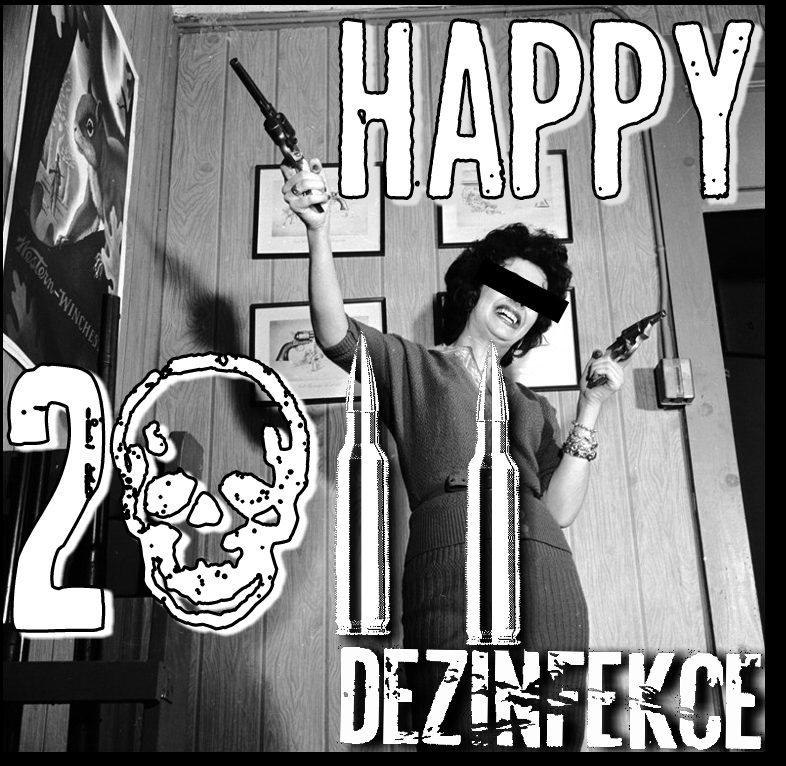 ...

shows in

2010

it looks we ran through

quite

lazy period

- 19

events,

but

also

two

different

compilation

-

"

Punk-Rock

Without Borders

"

in

Belarus

and the

VA

''

E Pluribus

Unum

''

in

Spain

and released

a DVD

ofrom Festa de la Pohoda

2008.

Now we're working on several new tracks and booking some shows....

would be complete
gallery
of posters
for
2010
picture gallery for 2010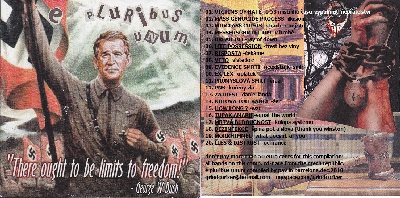 http://www.mediafire.com/?8nqj2mmnn46mt5o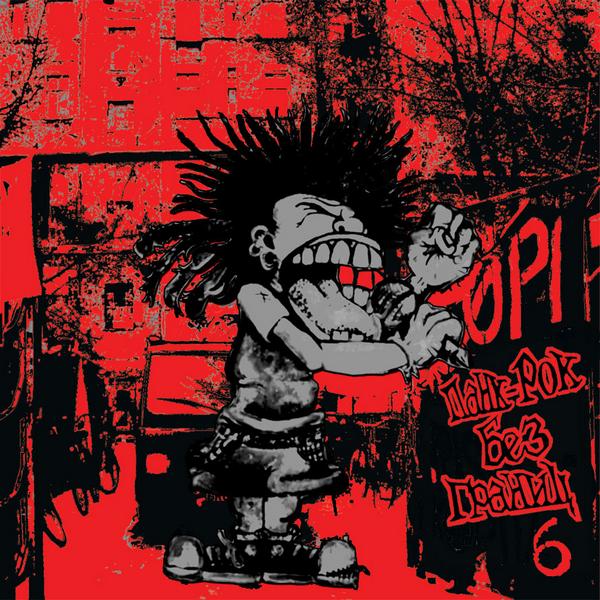 08/24/10

... And another notch on the barrel ...
compilation "PUNK-ROCK Without Borders" Part 6 - list of accomplices, who participated in this crime...
NO LIMITS |slovenia| DONA MALDAD|venezuela| .DISSONANZA. |italy| DEZINFEKCE |czech republic| OLE AND THE ORKS |germany| HEVN |norway| RABIES |czech republic| I HOPE YOU SUFFER |croatia| LA CASA FANTOM |norway| JUDITH|italy| STERILE VERGIFTUNG |germany| DR. ZERO |slovenia|STAGNATION IS DEATH |poland| PNS |czech republic| 'tVETTIG FRONT |belgium| CAUSE OF DIVORCE |germany| SVINE! |czech republic| FAAK AM SEE |croatia| SLOWA WE KRWI |poland|HIRNSAULE |germany| PRUMYSLOVA SMRT |czech republic| PARTiYA |belarus| more info
http://primitive-distro.blogspot.com/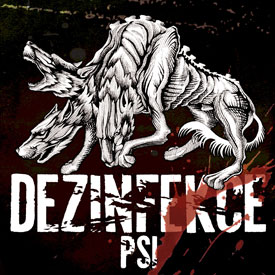 01/29/10
365 days gone again. So we'll make little list of what we have done... we have played 33 shows, toured through Austria, Croatia, Bosnia, Greece, Macedonia and Slovenia alongside with Gride. In the gallery you can find tons of newly uploaded pics from shows from recent time and some elder ones too.
Finally we can offer several live videos...

Ústí nad Labem – hardcore Circus Feb 14, 2009
http://www.youtube.com/watch?v=si02de6fgFQ
http://www.youtube.com/watch?v=gh43QefM2ng
http://www.youtube.com/watch?v=KQAUPpgrHio
http://www.youtube.com/watch?v=h9WbQjUm0_Q
http://www.youtube.com/watch?v=O5Z-LHVfh24

Noise Party Velbloud Jun 6, 2009
http://www.youtube.com/watch?v=O7UMTwbzCEI

Posloucháte Jižní Čechy II – Pí klub Písek Dec12,2009
http://www.youtube.com/watch?v=58G7ARXm15M

Live in Pacov May 29,2004
http://www.youtube.com/watch?v=o1TZ0GH3W4g
There are several reviews of our last CD Psi and reviews of the compilation Poslouchate Jizni Cechy II.
We have made three interviews – hellrazor zin, punkgen and Biologica squat zin (thessaloniki)
09/29/09
Back from Balkans! Thousands kilometers and 7 places damaged by sonic eruptions – several impressions
Sep 11, 2009 Königsdorf / Austria We're little bit stressed on beginning + usual delay + little rambling. Blues club Traverse is getting under pressure. First play Fist a Ferret. Largely grindcore milieu but we can find several "hidden" punx during the show. Testing of local reserves of beer Ottakringer – headache on the morning.
Sep 12, 2009 Rijeka/ Croatia Finally at the sea. The place we will play today is running by local NGo. It is in dockyards. The club seems to be former elevator well. Local beers Karlovacka and Tomislav have the highest evaluation and sympathies. On the morning beautiful view on the bay. Sea bathing before departure...
Sep 13, 2009 Sarajevo/ Bosnia and Hercegovina Short after crossing border we can see AK47 signs on the houses' facades, a lot of them were burned. When we arrive to Sarajevo it's already night. University club Access with very fine sound. Unfortunately there are some problems with cables during our set. But anyway the best reaction of people since the tour beginning.
Sep 14, 2009 Thessaloniki/ Greece13 hours lasting travel to Thessaloniki. On the journey through Bosnia we see traffic sign for mines. Half of Bosnia, whole Serbia and Macedonia and bit of Greece. We arrive at midnight completely exhausted – but in the words of locals in the right time to start a show. Biologica squat in the campus – the police cannot legally do anything at the university. The best poster of the tour - ace card with rasputin with gride and dezinfekce on the one side and witch hunt on the second one. The people have fun during the show... we sleep in another one squatted place in the centre...
Sep 15, 2009 Thessaloniki & Asprovalta / Greece Sightseeing of Thessaloniki in the terrible heat and hangover. Than leaving to the Asprovalta and day off with beer cans and lounge on the beach
Sep 16, 2009 Skopje/ Macedonia Sea bathing on the morning and travel from greek macedonia to macedonian macedonia. We are hanging at Ivan's "the tour boss" flat. Place for play underground garages in the city centre – it's real DIY. We're staring at 8 and at 10 is everything finished and filmed ... Dinner in the Indian restaurant...
Sep 17, 2009 on the road Sightseeing in the Old town of Skopje – mosques beside churches and just close to both macedonian version of oktoberfest (it's closed). Next day off with increased alcohol level. When crossing the border to Serbia we take a picture of begging dogs before the bus and we are nearly bitten by upset custom officer. Sleeping alongside the higway – first and last time we get wet – we are going to another dry place – we're squatting a little stand with some religious trash....
Sep 18, 2009 Zagreb/ Croatia Trip to the historical center of Zagreb but we are almost tired and sleepy. We play in suburbs in the club Time. Great sound. The people are almost standing, listening and sometimes screaming in the pauses. Karlovacko beer in combination with pelinkovacka booze is killing formula. Afterparty in Medica squat close to the center – when judging from the morning view it has to be one of the hardest ones...
Sep 19, 2009 Ilirska Bistrica/ Slovenia We have time enough to go to bath to Izola on the Slovenian coast. MKNZ club seems to be perfet place for show. We're just looking around to see who had been plaiying in the club ... it's a big surprise. We begin after 11 pm – Slovenia plays an important basketball match with Serbia. The loss 92:96 wasn't good starting point for show moreover when the electricity falled out. After several minutes the cable guys had everything connected again and we finished the set.
Sep 20, 2009 on the road again – we travel back home through Ljublanja – Maribor – Graz – tunnels to Linz - home
What's next? Yesterday we have played in Velbloud – it should be the show with Total Chaos – unfortunately they have some problems with a van and could not come. So we thank to everyone who survives our longer playlist.
Some news in the distro tees, buttons, back patches and with new logo. The vinyl compilation Poslouchate Jizni Cechy II is finally out - with three of our tracks...
05/25/09
well, announced summer tour seems more than bit empty, in this state of progress we should have to cross the Czech republic and close surrounding... anyway we had to leave the idea to play in Belarus due to the fee for visa...
Good news - there's another tour we will go with befriended grinding machine Gride. Brain damage and sonic thunderstorm can be expected in Austria, the Balkans and Greece in the second week of September. In this occassion we work on tees and stickers with new logo taken from the last CD.
The track for the LP compilation Posloucháte Jižní Čechy II are already mastered. You can expect some new mp3 very soon.
Here , here and here take a look at the pics from the Mr. Brown club show w/ Innoxia Corpora, Svině! and Poslední slovo.
Some new shows added maybe we're hanging around your place...
03/02/09

...ok first warming up shows are over. we have some shots from club circus in usti nad labem here. We plan to record the compilation tracks for Southbohemian compilation - Poslouchate Jizni Cechy in the beginning of the April. Right now we discuss next trip to Germoney and the summer plans can lead us to far North - Poland, Belarus, Lithuania, Finland and back again... wel'll see.

01/07/09
...we/you're bit older and wicked again... take a look at several new shot from Xsmas show and from Teplice gig. We're planning to put three new tracks on vinyl compilation mapping bands of south Bohemia "posloucháte jižní Čechy" which will be released by Šakal (Rabies). Translation of lyrics for new album "Psi" is available and finally we have several warming up shows for this winter...
When taking a look back on 2008 we have to say we've played 31 shows, including 2 German minitours and 1 Slovak Easter tour. Furthermore we have recorded new CD. Maybe we're not so lazy as we always thought... We have played 269 shows from July 2008....
09/18/08
…Here we go! 13 pieces of decibel slaps in 28 minutes 30 seconds mazbe you can face it. If you wanna some sound bites check it out on myspace or bandzone (in Czech only).
CD Tracks:
Pomsta myspace bandzone
Jak jsi na tom ty? myspace bandzone
Ksicht
Komu podáš ruku?
Přidej se k silnějšímu
Psi myspace bandzone
Křič
?Je?
Svůj k svýmu
Jméno pro ticho
Kopie
To všechno, co smíš chtít
Hajzl
We want to thank Tom Hell and Jožka Hell (SYIH) and also Kratos (P.S., Living Puding, ex- Kritická Situace) who baptize the CD with alcohol speech etc.... If you're interested to buy the release you can try PH records and good distributions. Thanx goes to all people who helped us with the album...
...and finally we're still looking for labels or people to help us with the LP release....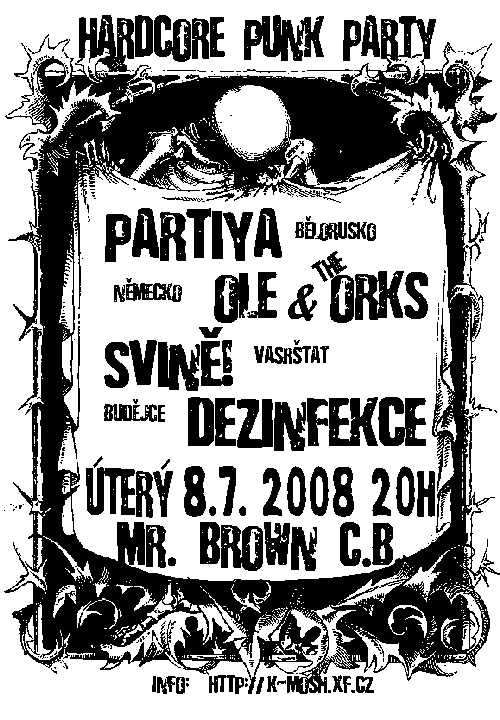 13/06/08
...lots of news. first off new album has been finally recorded the crime was done at jamor studio with neverending patience of ondrej jezek. album icnludes 11 new tracks and two older tracks (newly recorded).
now we are going to mix the new material to get more explosive content. it is more than probable there will appear some mp3 with the end of the next week.
front sleeve picture will be done by the tatoo terrorist Gizbern a.k.a. Sandokan a.k.a. Robert the devil, which is laso playing bass in Lahar too. The new album means also upcoming upload of the image of the whole website maybe with new "better" URL too...
The CD will be released on Papagajův hlasatel recs which has courage and flair na dhad released our tape in 1999. The release of the LP depends on money - now it's possible to cover only part of the whole costs, so we're looking for some brother in crime (DIY label) to share the costs of the release...
we have restarted the organizing shows in our town under the label k-mosh
uploaded some new pics and added sveral show dates.
04/02/08
we have survived next slovakian wild wild east tour number two. you can take a look at some pics from the show in Trencin here. lot of new show dates has been added.
01/24/08
... lot of new show dates, we'll play most of them in neighboring countries sometimes with real legends (english dogs). take a look to showdates section. recording is planned for may...
12/21/07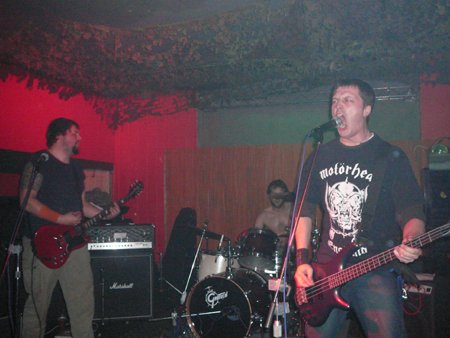 ...last few month we have enjoyed playing with legends - Ilegality, P.S., Akutní otrava, Innoxia Corpora, Michael's Uncle - mostly with our mates from svine! or gride --- now we can be proud and important as shit :) Several pics are here http://dezinfekce.rajce.idnes.cz
Our friend Eslovaco made some videoshots during the shows in our hometown now it's waiting for our censorship :).
Right now we expect next show with another legend - Insania - tommorrow.... Dec, 22 at Velbloud
10/25/07
...now it's confirmed...(not only) my personal favorites of Czech HC- Michael's Uncle will come to the town at the confluence of two breweries... and who will share stage with them?... you're fucking right ...more details here
10/19/07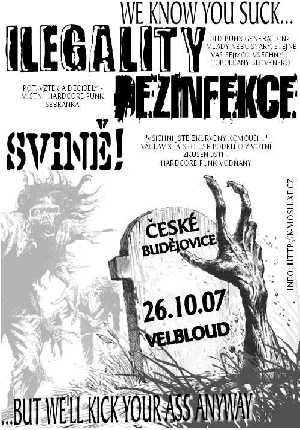 Now we're in the mid of October and everything is little bit otherwise... we have to say sorry to people who were looking forward to us in Horovice (as support for Red Dons), on Punx Piknik and in Brno (w/ Born Dead, Pavilionul, Gride etc.... our drummer is not skilled acrobat and several tricks are really tricky...you can have all points for courage but the crucial point of the whole fucking thing is landing... hopefully he'll remember
the videoshot from the khoi khoi club in Kosice (wild wild east tour with svine!) is already in my computer. in short time there'll appear some link for it. ...the amount of new tracks reached number of 9, but only 4 have lyrics. by the way we have moved our rehearsal room again...we weren't houmless for a long time only thanks to friends from h.USA , thaz found new rehearsal room and thanks to cheers for provisional asylum. Next week we'll try to restart our active playing again along with ilegality and svině. and the show section has grown little bit again...
08/23/07 ...the Fall is comming and the time for shows is through lazy summer days more and more visible...the bomb raids of sweat, anger and decibels will be seen very soon in lots of places in the Czech Republic – we'll attend punx piknik in Mocovice u Čáslavi, next show in Horovice we'll play with portland punx Red Dons and the next gig in Brno will be something special with Born Dead, Gride, Austrian Feeding Time and Pavilionul 32 from Romania ... okay it's for September only... for October we plan ear terror for fellow citizen of our beer town – together with commandos from Wasserstadt and Topolcany. The big action "Neziskovky neziskovkam" in Ústí is unfortunately in troubles but we'll play in this town in December. The whole rest of Fall we would travel on the axis South-North... the end of the year we'll finish with X-smas show in Velbloud with Insania....
07/26/07
...unfortunately we won't play the show in prague (Aug, 25). this holidays we'll have only two gis... wave festival in Budejovice and PUNX PIKNIK 5. The Fall starts to fill with shows... sometimes very interesting bands... the playlist will be occupied by new tracks very soon... and we'll plan some trip
16/07/07
...new pics from prague (007) uploaded. it is summer - holiday time in spite of that we're rehearsing new tracks very intensively. but we have time to play several shows of course...
06/04/07
it looks we're finally healthy now... first eruption of dark force to be expected in several south Bohemian places and in Prague too. We'll try to make something with videos from our gigs... and finally update of shows. unfortunately the summer tour will be postponed to Fall, due to the fact we were unable to find enough of shows and lot of administratition connected with the trip...
04/20/07
man of the month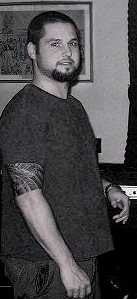 ...okay we're a bit more sweat and shout... hades will play his last stand in show on April 28. Today's show in Velesin is unfortunately cancelled. All "stand in" show with hades were unexpectedly without problems. Slovak wild wild east minitour was really exhausting - but we survived again. We'll come back in the year... here are some pics from Kosice... flas.ska is finally without plaster cast and first full armed show will be June 15 at 007 with Thalidomide - they will introduce a new CD.
03/19/07
...it never rains but it pours...our drummer had an snowboard accident and his wrist is broken..plaster cast till April 10...stand-in is our friend hades (PMLZ) - his fame will be timeless...we practise as hard as we can, we are going to play all planned shows... unfortunately this accident will postpone recording of our new material....
02/28/07
...show dates update... we plan a next trip with svine! during the summer we'll try to attack Poland, Belarus and Lithuania... we'll see
02/06/07
...several show dates added - we got a lot things to do untill summer. currently we're going to make our new rehearsal room ready for normal working. we got a minipage at numberonemusic and you can take a look at some pics from january show at Velbloud...
01/26/07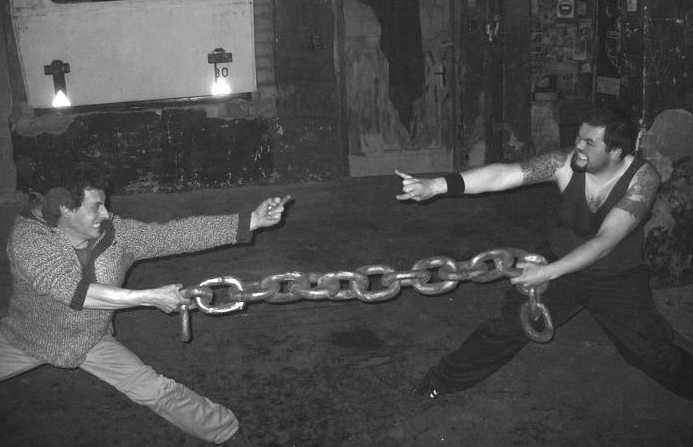 ...the pics from Gr!money tour were finally upoaded. If you wanna see some picture of your idols you got a chance...
10/11/06 IMI Club Brand Erbisdorf
Several new shows added. Finally updated links. Here is a proof that we sent the money form the 007 benefit to the right bank account - once motre thanx... I think that's all 4 today...
12/1/07
...lot of news... the rehearsal is found ...after 5 month... thanx to friends from h.USA. we can finally work on new songs. we got 5 of them and have to finish the lyrics. we hope you'll enjoy them a.s.a.p. we have to say THANX to cheeers!!! because they let us rehearse in their garage during the time of our homelessness. The pics from the Germoney tour will be uploaded very soon - the key person Pufffy finally decides to do something... Anyway I have uploaded new poster gallery and linked our profile on myspace and link on k-mosh - our "label" - organizing shows in C Budejovice. The web page of Pohoda records is dead for several month and in case you're interested to buy our CD, vinyl, t-shirts, badges, patches and other stuffwe recommend to contact PH records. The pictures of svine! can be found at http://svine.rajce net. and of course we have added some more shows...
12/22/06 ...merry phuckin' xmess...
12/14/06
...lot of work before the end of the year... we will play one special show....maybe you already know... Prague's 007 club is endangered due to problems with noise level... we decided to make a benefit show to keep this place...
BENEFIT 007
DEZINFEKCE
(local hardcore punk gang) http://www.myspace.com/dezinfekcegang
CHEEERS!!!
(80's punk/ HC Budwajz) http://bandzone.cz/cheeers
KUBA BAR 21.12.2006
8-10p.m.
...we're working on tourreport from Grmoney tour with lot of pics and other stuff. Tracks "proti sobě máme šanci" and "jen ty sám" will appear on the indymedia compilation in Germany
11/02/06
...finally some update after quite a long time... added some pics from the last show in Orion (Tabor) with innoxia corpora , thanx goes to people from bad boys crew. taabor - our favorite town for playing show is now a little bit more favorite. next added pics are from summer show in Rechle camp and from the b-day party of our friend (barn mosh rulez!!!). Warming - up shows (Vodnany and Taabor) was kinda successful. Tomorrow we left to conquer Puchov in Slovakia along with svine! the second slovakian show was unfortunately cancelled. the germoney tour dates are following...
10/11/06 BRAND ERBISDORF IMICLUB
11/11/06 HANNOVER KOPERNIKUS
12/11/06 OSCHERLEBEN ALGE
13/11/06 DAY OFF
14/11/06 LEIPZIG ZORRO
15/11/06 BERLIN KÖPI
16/11/06 GÖRLITZ HOSPI
17/11/06 BITTERFELD AKW
18/11/06 FINSTERWALDE L44
...now we prepare "special tour t-shirts". Situation related to missing rehearsal looks promissingly.
10/03/06
... massive update of show dates till the end of the year. gr!money tour with svině is also getting closer and closer. before the tour we'll play 4 "warming up" shows (2 in Czech republic and 2 in Slovakia)...
09/05/06
...some big news... the compilation mapping tha punk bands in the surrounding of Ceske Budejovice is in preparation, we'll also take a part on underground compilation in Philippines. We got new account on myspace so take a look at http://www.myspace.com/dezinfekcegang. we have already started organizing of show under the label k-mosh We have finally lot of shows for Fall 2006, especially the tour with svine! in germoney looks now pretty serious. I have added several pics from summer shows in Velesin and festival Police. We're still without rehearsal, so we use the garage of cheeers!!!
08/01/06
...we're still looking for rehearsal, our city seems to be a gerontocolony soon, 'cause everything is controlled by oldsters and they not able to accept which can disturb their preterminal quiet. We have one more summer action - police fest on Aug 19 more info on http://www.mladimazelenou.wz.cz/. Last gig in Velesin was great you can easily get sauna during the show - it was about 50 degrees in the room. In Budejovice it loox that something will finally move with shows - there is lot of shows in Cuba bar and the cooperation with the club Velbloud starts to be more concrete. The details about shows we do (or will do) you can find at http://k-mosh.xf.cz. From the last festival Festa de la pohoda is released double DVD (with professional cut, recorded with 3 cameras) we have also some of our tracks here. You can get it on pohoda recs
07/03/06
...we have fallen into a deep shit: after about one and half month of quiet, when it seems that it's everything okay, we have lost our rehearsal room. We will rehearse in garage of Cheeers!!! another C.Budejovice's band. On the tape compilation Czechcore will kick you into your head we have only two tracks - sorry for the mistake. Now something lil' bit happier the people who didn't take notice - on this site in the right corner there's play mp3 jukebox where's our last complete album. I have added some pictures to the gallery and also we have some new shows. It seems we will play a tour in the Germoney - hopefully...

05/16/06
....planned tape compilation
Czechcore will kick you into your head
on
OVXHC
is finally out, dezinfekce has 3 songs on it, the comp includes 16 czech bands costs 80 CZK, 5 CZK is a beneifit for czechcore.cz server. The pics from our April show in 007 are right here.
I have also added several shows.
The end of May won't be a relexation for us --- good news first we'l finally play on freedimfest in Taabor, and after long long time we'll play in pohoda club in Vodnany, the bad news ---after 1.5 year we will probably have to search for a new rehearsal....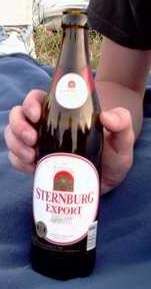 05/03/06
...no doubt this was the most frequented activity during our two-days tour with svine! in germoney. we played two shows one in Chemiefabrik
in Dresden and the second one in one very small but very very full club in Brand-Erbisdorf. If you wanna see some pics take a look here or here. From the last mentioned show we have also some videoshots (unfortunately without sound) now we have to decide what to do with them. Last two weeks were really exhausting but also very rich for some pictures. you can see some pics from Napajedla, the pics from Kladno and Prague's 007 will be a.s.a.p. We shall to say thanx and hello to:

Jonestown, Plastered Bastards and Adamovi for the show in Kladno
Kulacz and Kejmy + the rest of Compromis for 007's show + Kratos, Rostej, Jano and many others who support us
Bohdan & MGP crew and Gride for Napajedla show.
Wahnfried and Jan for the both Germoney shows
Brozik for the van.
04/12/06
...I was little bit lazy during the last moth. we have played two shows in Usti nad Labem and Havlickuv Brod. a have added some posters to the gallery an re-added some very old school pics from 1993 or 1994...take a look.Our t-shirst will be sold out very soon - the new ones will be more crusty - black ... on following link http://www.bandzone.cz/dezinfekce/mp3 is next song to download (...!)...finally we need to say SORRY to bozena from ilegality, 'cause he organized most of shows of our November tour in Slovakia, but we absolutely forgot to thank him...the second half of April seems to be very intensive, we will play 5 show so ...see you in the pit!!!

02/26/06

...next 4 shows in two weekends. In the hindsight it was more than little bit crazy - birthday party in Tabor was really devastating, we have felt it on the next show in Dobris next day. Last weekend went the same way. I'd like to emphasize the performance of CB crew. Here you can take a look on some pics from Dobris and finally some pics from our September weekend with svine! - shots from Liberec's Alcatrazz.

02/15/06
...several new show dates added. we'd like to say thanx for those who came to our last show - GRIND THE CANCER! in the K2 club - they've supported good thing. at the same moment we hope you'll support us on our next show.


01/26/06
...I have made one radical step on following link http://dezinfekce.rajce.net there are all shots of the band for last 5 or 6 years + some completely new shots. Alltogether pictures from more than 20 shows.


01/24/06
...our first show of this year is already the past. pufffy has bought digital camera. It's possible that you'll find your face somewhere on the page - only in case you're good mosher ;) Update of shows added. Gride - our brothers in arms finally filled their web so take a look.

11/25/05
...one more show at the end of the year

11/23/05
...next hard minitour with svine! has finished. The towns under attack were Břeclav, Bratislava, Spišská Nová Ves and Bardejov. We got to say thanx to bands which made support on the stage - Risposta, Scorbut and Gate. Tons of our thanx go to people who made this minitour to be real. Well here they go: Jožka (SYIH) + rest of Uher family, Mirek Kokavec (Ultima Ratio), Kubo (Adacta), Marek, Škulo, Filo and Fero. We plan to make a tourreport, but I´m afraid I'm too lazy to translate it. We got lot of pictures from the shows and I'll try to put them on the web a.s.a.p. Next update of shows. And one more good message at the end - we'll have new stitches - yeah those with the skull on the beginning of the page -very soon
10/10/05
...well, we have suruived next show with svine! - two hours lasting traffic jam in prague, overdosing by grafen walder beer, terrible road to harrachov, after 7 hours we arrived to gryfow slaski, drinking local killer beers, show - yell, sweat and raw guff, hard morning ...as always.
btw: there's a fotoreview from the show hudbou proti násilí (music against violence)
10/04/05
...well, what's new...from the summer fest Festa de la Pohoda will be the DVD with killer sound out - we have to hope ;). we spent a wonderful weekend with svine! in kladno and liberec sep 17 and 18 our thanx goes to adam, cyril and veronika - who take responsibility for such risky action. the shows were wild as hell and we will have some pictures and video. next hit we have made in linz last friday-it is probable we'll have a life recording from the club. the OVXHC compilation should be already (or very soon) out. on the webpage - updated shows, inteviews and reviews in discography section...
09/08/05
...after really hard fight with my natural laziness i have created the new version of the web...nothing special but i hope it will function better than the previous one...the shows till the end of november were added ...most of them we'll play with our friends from svině!...finally i have added new pictures to photogalery, unfortunately not so many due to the lack of web space.... i plan to update the interview section 'cause sometimes happened to us that we have sent the interview which wasn't used because of the end of the existence of the zin...okay that's all 4 today

06/17/05
...we are on the 25th place in břitva 2004 (an UG inquiry). I have added several new shows and reviews in discography on the CD/LP stačí najít důvod...
05/24/05
...some of our elder songs appeared on the compilation punk rock bez granic in belarus. several new shows added. and there's our minipage www.bandzone.cz/dezinfekce so take a look.
05/06/05
...we have survived the show wiht the exploited... we have finally log time promissed t-shirts (red, yellow and white)...availble on pohoda records or on our shows...
04/25/05
...we will have no time for boredom during upcomming summer...
04/15/05
...we have finally found enough courage to say goodbye to our old guestbook - the new one is here and you can start to fill it right now. Everything is prepared for the show with the exploited Apr 30, 2005. The show dates for the next month unfortunately doesn't look so promisingly but I have added some new shows...
03/17/05
...lot of new things happened... we'll support the exploited on Apr, 30 in Budejovice. I have added compilations we take part a several reviews of the new record (discogrpahy), there are several past show flzers in pictures...and this one should be the front of our t-shirt....
24/01/05
...added new shows, next plan is to add some reviews of the new album but everything is written in czech. have to fight hard with myself to make useful translation. next thing which could appear very soon are new adepts for our poster gallery.
13/12/04
...new show dates added...
11/11/04
...new show dates added...
11/04/04
..okay there are some mp3s from our brand new CD/LP hope you'll enjoy it
stačí najít důvod, každej den každej z nás
10/29/04
...IT'S TRUE!!! Our CD/LP is finally out. take a look at the cover ...we'd like to say thanx to ilegality for the unusual last weekend in slovakia...yeah and I have added several new shows...
09/23/04
...there are some things waiting for the right time...okay bands P.S. and Zeměžluč won't play on the pohoda recs. party Oct 30. We will use this opportunity to baptize our new record. Hopefully the final bandlist is SUFFER, ILEGALITY, STEPSON, SVINĚ!, DEZINFEKCE, K.Z.O., SPÍNACÍ ŠPENDLÍK. I have added several new show dates.
09/03/04
...new show dates added, the baptism show for the new CD will take place at Pražák u Vodňan Oct 30, 2004 with support of P.S. ILEGALITY and ZEMĚŽLUČ
08/16/04
...several people could think that we are just hanging around ...they are absolutely right...first show will be Sep 17 at cerny velbloud in C. Budejovice...added lyrics for the new album

30/06/04
...several changes in show dates...

06/10/04
...ready!!! 11 song and about half of hour of noise recorded and mixed at jámor will be out soon on pohoda records . soon means right at the moment we finish the booklet. sound bites will be on the web a.s.a.p. (promise)
songlist:
stačí najít důvod
tak to vzdej
proti sobě máme šanci
co bys dělal na mým místě
buď ty nebo já
každej den, každej z nás
faceless
f**k
jen ty sám
nemít strach
love song
we would like to say thanx to our studio co-screamers kratos (ps) and ritchie (dreadrot). okay what's next...some changes in show dates and finally our shot from the show in chrudim. maybe there will appear a video from the wild show in kutna hora...
05/06/04
...well, the first half of recording is over...I have made small update of gigs we'll play...thanx to viktor for the shots of the chrudim show...I hope I'll be able to put it on the site a.s.a.p....

04/14/04
...new show dates added...

03/19/04 ...everything is bit otherwise than month ago...the starting of our recording will be April 19, 2004. CD compilation attached to Move your ass is ready we got track no. 12. we have played two shows with desperate cry from austria in krumlov and tabor - there are some mp3 of d.c1., 2. .. and try to visit the pohoda rec. party. ...of course there are several shows and link update.


02/23/04 ... I have finally uploaded several new pics, of course there are new shows...

01/13/04
...okay first off happy new year. the last year we have played 33 shows. we plan several shows in surrounding of our city. benefit tape and CD for freezine Move your ass was released by the ACV (see the picture). Our next release will be one song on compilation CD which will be a part of MOve your ass zine mentioned above. I have several new shots from LIberec, Havlbrod and Xsmas massacre in Vysoke Myto click on the link for the whole fotoserial story. Okay, I'll try to get them on the web a.s.a.p.
12/01/03
...the term of recordings has changed...we will start a week earlier. there are several new show dates again (this year it will be 34 shows).
11/04/03
...we have finally a term for our future recording it's April 4, 2004. there are several changs in show dates. in very close time should appear new pictures on the page. don't forget to visit the show in cuba bar (see picture)
10/03/03
...one of our songs will appear on the benefit compilation for MOVE YOUR ASS zine. the compilation is prepared by Cabaret Voltaire records. the next show dates update.

09/04/03
...of course we have several new show dates, what's really sad holidays and summer are slowly running away, my head has thanx to one psychoasshole from Cesky krumlov one scar more...okay better newz we have finished an interview for Slovakian zine ...thanx goes to Turco... next item is long announced AMA (Assaulting Murder Association) tapes "6 way split tape "WAR OF THE WORLDS" with Malignant Tumour(CZE), Dezinfekce(CZE), G.A.T.E (SWE), Social Sterility(SWE), Hellblazer(GER), Stress(MEX)... as a proof that we weren't lazy through the summer there's a list of summer shows.....Hrabice u Vimperka, Liberec-Rochlice, Slamník - Praha, Zliv, Pracejovice u Strakonic - fest, Vodňany Malá festa,Č.Krumlov - Domino + new scar as a bonus, Praha-Klánovice, Pacov, Weitra (a), Moravská Třebová...


07/16/03
....the face of our new webiste is almost ready, there are several new show dates again...
06/20/03
...we have registered domain http://dezinfekce.tk, updated show dates
06/06/03
...compilation prepared by Paul from in the wake of the plague will include tracks from: Boxed In (england), AK47 (croatia), Divorce (georgia, usa), George Harrison (russia), In The Shit (wales), Human Waste (sweden), Earth Today (finland), Dezinfekce (czech rep.), Inepsy (canada), F.P.O. (macedonia), Audio Kollaps (germany), Inertie (france), In The Wake Of The Plague (california, usa). it is not sure yet but this release will be possibly on the vinyl.
...right now we are finishing the interview for svobodná duše zine.
...there are finally the mp3s from split seveninch in the audio section unfortunately in spite of our elder tracks from 1650 secs. I'll try to solve the lack of webspace somehow...be patient...
...the face of our new website including new logo is ready. new site should be in flash ...now is still not clear when it will be done
...our travel "crew" will be enforced with Honzik from Hardliner records he'll take care for all things relating to distro and punkrock vinyl bazar (there should appear a list of titles by the time).
...take a look at shows 'cause everything is otherwise.
05/09/03
...okay back again there are problems with a web space and it means porblems in audio section. the solution is that we will post each month another mp3s. good message is that we already have the mp3 from split seveninch I hope I will be able to upload them next week. our next hint will be done on the compilations from in the wake of the plague (US) and ama tapes (Tur)...we'll see.
05/02/03
...the problems related to show dates are neverending actual situation is here
04/14/03
..it looks more than bit crazy but our firts gig ever took place at Gerbera club 10yrs. and 2 days ago. Take a look on gig section there are several changes in planned show dates. some good newz >>> there will be some regular shows in CB city again - very probably in Cuba bar. The t-shirt design is almost ready.
03/26/03
updated show dates
03/07/03
...CD compilation "War on terror" is out on thrash and die records (dezinfekce has 3 tracks here + remix, material from our split 7 EP). The list of bands on CD is following BOB BARKER (usa),NEUROOTTISET PELIMANNIT (finland) SCISSORFIST (uk), WILLBREAKER (usa), ULCERRHOEA (germany), DEZINFEKCE (czech rep),HORNY BOYS. Btw: Thrash and die rec is no one else than Tony from Kirk to Scotty, who had made a tape compilation "Need for speed" with using of several our songs. Next one good message is that our interview for Kirk to Scotty/Thrash and Die will be used for the issue of US zine called Attack. We plan to record new stuff in Fall it's very probable we'll record it in the same studio. and finally it seems that we'll have our T-shirts too.

02/06/03
...new show dates added...
02/05/03
...during our stay in dresden we were surprised that one of our song is played by local illegal radio station. now we know that radeberger beer is something you can drink and we know for sure that in saxony could be one really chilled. and finally absolute rarity shots taken during a birthday party show in 1993 - you can find it in PICS under the EARLY DAZE link.
01/23/03
...new show dates added...
01/13/03
...finally a god message. after long five months of finding, anger and helpless wating we have found a reahearsal. we are going to smash you up ...we take no prisoners...no exception... enjoy!
01/08/03
...in the year 2002 we have played 28 shows. we want to have little break with shows at the beginning of the year, we have to find a rehearsal and work on several new songs. there will be one exception - show in dresden in Feb 1 2003. we plan the show break till the beginning of March. the interview for kirk to scotty is ready (it is finishing the translation). in the town ceske budejovice is starting a new activity - imp production - its main mission should be organizing of shows and distribution of releases of local bands. it is absolutely clear that we have our own share on this crime. first show was in K2 club Jan 4 2003 with bands svině!, nasty work, dezinfekce, den za dnem & motorova prdel. the only bad thing was soundmaster - very strange man who probably isn't able to find any reason why he's doing his job. the shows bring enough money to start organize shows regularly.
12/11/02
...right now we're finishing the interview for Tony from Kirk to Scotty tapes. there's a change in band appearing on prepared Kirk to Scotty compilation. The result is: BOB BARKER (usa),NEUROOTTISET PELIMANNIT (finland) SCISSORFIST (uk), WILLBREAKER (usa), ULCERRHOEA (germany), DEZINFEKCE (czech rep),HORNY BOYS (finland). the situation with rehearsal remains still critical but we have lot of show dates so it's not so sad for us.
11/19/02
...the counter of the web shows that the situation with visitors is not so bad as I have been afraid. what's really sad is that the things with our rehearsal are moving very very slowly - it's a more optimistic explanation for "nothing's changed". There're about ten songs for new tape (or another crime) but no place to finish it. well, there're some gigs of course. and some better newz at the end...many thanx goes to the "diagnostic front" for his helpful commentaries and "victory palms".
10/25/02
...finally I dared to put a counter on the site...I rather started with favorite number 666... there's a new part of the site - webrings. Thanx to Tony from Kirk to Scotty tapes, who has already used 2 of our songs on his tape comp "Need for Speed" - now he plans somethin' bigger and we'll have a next release. It should be a CD split of these bands solitary neglect (usa),bob barker youth (usa), disaster strikes (usa), willbreaker (usa), scissorfist (uk) and us of course. There's a planned an interiew with us in several of english zines. While browsing on the net I found a real rarity...4 minutes from one of our gig on the videotape - the biggest surprise is the distributor of the VHS – Brutal Alien Videos from Brasil! There are several new show dates added to the page.
09/23/02
...well what's new...we got a car, but we lost our rehearsal. Big flood in August caused that the city exhibition ground became a summer swimming pool for about a week. Fortunately we saved all our gear. There are lot of bands in worse situation now. Here you have some new tour dates for the Fall.
07/30/02
...update of the linx, added show dates for next month.
07/11/02
several new show dates added. too busy to do anything else...
06/03/02
...the review of the gig of May 25 in Vysoke Myto is at czechcore.cz ...despite of fact that's more than sure that all punx are lazy bastards we have to start with promotion of our split EP with Svine! ...it means that mp3's will be finally available soon. web update >>> several new shows added. GSM contact has changed thanx to unknown thief - the old number +420604716665 is not in function anymore the new one is +420732246755.
05/13/02
...hoarseness and sweat - every weekend ...hooh I hope we'll survive somehow ... surprisingly there are several new show dates
04/08/02
...one month has passed and everything is otherwise...from the half of April till the end of May we'll have absolutely no time for anything else than shows take a look here...new demo becomes more real it should be about ten songs...
03/08/02
...well next three months has passed and this site could not be unfortunately updated during this time. split EP with svine is finally out (you can take a look at the booklet here). you can order it directly by the band here or in distros. we plan to place on the web some sounbites from this EP. it seems that we wouldn't have so many gigs until the summer 'coz we plan to finish several new songs >>> we should to record next demo in summer but it means for sure we'll do it maybe in fall. this year begins with one of our best gigs in babice (crust fest). interview for slovakian zine should be out in about month. some of newer songs will appear on the russian compilation. we plan to move our website to hyperlinx.cz. after more than year i decide to update the linx.
12/10/01
...our song "I don't need" will appear on the CD compilaton of Kirk to Scotty tapes in Britain. 650 tapes of our demo 1650secs is sold and very movin' to the magic number of 666. The edition of our EP will be 500 pcs. The audio section doesn't function due to some strange reasons, we stay before decision to move the site elsewhere. ... Okay I think it's all 4 this year...
<<<merry f*ckin' X-smas>>>
11/20/01
...band has appeared on the tape compilation in Britain, planned split tape with stillborns will be out a.s.a.p. the interview for UPSTREAM zine (Lukas R.I.P.) is out. Jan 19 Y2K+2 is a very important date the EP dezinfekce/liny svine will become reality. it should be available at the end of January in distros probably followed with long time promised band t-shirt. of course we have some few show dates, we're rehearsing a new songs... web: update ==> bio, show dates, audio, lyrics, interviews
10/04/01
promised interview is here (only the soundsmag's interview - still dunno if we are able to translate next three czech interviews). there appears some few show dates. we're finishing the booklet for planned EP. you can also take a look at some past shows' flyers here
09/05/01
there'll appear interviews we have done through summer on this site. some new show dates. what's sad that something's wrong with mp3 download from the site...
08/21/01
...the site was not updated for three month I apologize to anyone who was looking for something new during this time. we have played 10 shows (it was not so hard like in the last year) the tour in Poland was cancelled and we still don't know any new dates. One our song from the tape 1650 secs appeared on the compilation CD of Polish zine Arle-zine. ACV has finished a benefit tape with 5 live songs from the gig April 30, 1999. our half of planned EP is finally recorded and mixed - there will appear three songs on this vinyl: "I don't need", "stejnej jako oni" (same as they are) and "ted mas co jsi chtel" (you got what you want now)...some more things we are preparing an interview with Lukas from the Upstream distro...it's really not so few things in three month...now we want to rehearse and need some recreation too...
05/30/01
...some changes in tour dates. band will probably appear on compilation in such exotic countries as indonesia, malaysia, in england is prepared split with stillborn, in brazil should be re-released the last tape "1650 secs". The very first interview will be out in soundsmag zine soon and we prepare an interview for a new slovakian zine (should be out at the end of this year).
...we'll see...
05/05/01
...several good newz... at the end of June we will toured with polish Nonsense for three days in the Czech Republic. the 7"'s split stuff will be recorded at the beginning of July. we will tour through Poland with our favourite band Illegality from Topolcany (SK) - mid July. first half of summer we will finish at Festa de la Pohoda...
04/06/01
...first off bad newz... Tomas is no longer in a band... now several better newz...it loox like we'll have a lot of shows again. we're preparing and rehearsing new stuff for the vinyl with L.S. finally we got some stitches...
03/22/01
...interview for soundsmag zine, we plan something like show flyers gallery, loads of changes in show dates (bad newz). fla-ska prepares flash site of the band...
03/01/01
...we've got some pix from the last show in CB and next few show dates was added. most of shots were taken by lenka jindrova mp3 files were done thanx to hippofil <<<late tnx>>>...
02/19/01
...show dates added. brazilian YELL zine want "1650 secs" for review.
02/05/01
...dezinfekce has got a fan club. what seemed in the first moment like joke of our friends is reality. you can get in touch at: fc-dezinfekce@quick.cz
01/04/01
...welcome in Y2K+1!!!the biggest surprise probably will be that dezinfekce will release split 7'EP with the band Liny Svine from Wasserstadt. it'll be out in summer. there'll appear soon a newer version of mp3 (maybe in real audio too). we got some shots from latest show in budejovice (will be added as soon as possible). of course we plan some gigs . we will add the lyrix on the web soon. that's all for now...
11/08/00
...added some linx and linked a g-book...
11/07/00
...finally there are some mp3's!!! + some new pics + several show dates added. we're preparing a CD booklet, we hope we'll finish it soon...
09/18/00
we have been touring whole summer that's why the web was not updated. it must change from now. i'm afraid but i still have bad news for the people who want to listen something. mp3's of dezinfekce are ready now but unfortunately not in my PC. we're scanning newer pics right now. the summer was more than intensive we played in: lhenice, gyzicko-poland, festa de la pohoda-vodnany, litvinov, horovice u berouna, vysoke myto, mlejn - prachatice, topolcany-slovakia, thanx to all who came to shows. we plan to make a t-shirt of the band (maybe there will appear some picture soon) we plan a flash version of the site too. we will play in austrian linz soon (end of october beginning of november) - the whole cbhc punk crew (better way, dezinfekce, diskriminace, 1982 and tbc). we're looking for the place for making shows in CB.
06/15/00
the fist new thing is this site. we are trying hard to make some mp3's and wav's (should appear at the website as soon as possible) and scanning huge of new pics. this is the right place where you'll find every announcement of the site update.

...next dezinfekce demo should be released in fall or winter 2000 in prodigy sound studio in C.B.